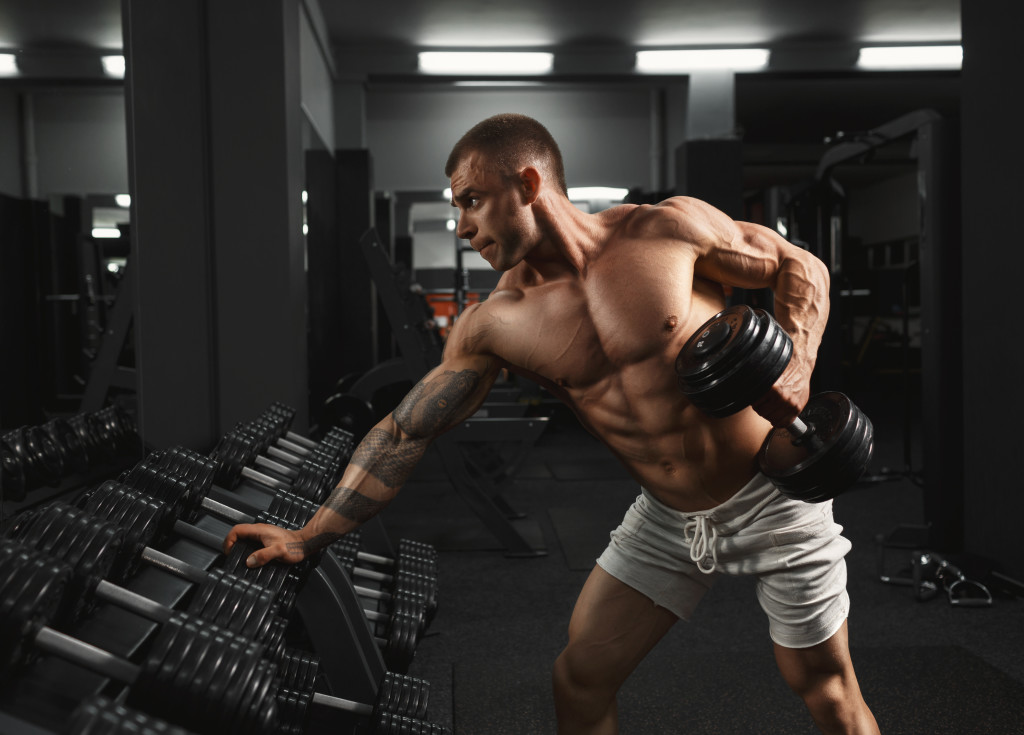 Looking around the various gyms that I have worked at over the years, I have seen a lot of hard work and a lot of wasted time. I have seen non-athletes training with their athletic friends, struggling with difficult and complex exercises. Distractions like phones and tablets reduce effectiveness of training and increase risk of training. Poor technique or the wrong exercises chosen to meet the specific goals.
The best results are only achieved by clear cut and organized training programs, progressive exercise routines designed to meet the requirements of the athletes goals safely and effectively, and focus on executing the chosen workout routines. While it is possible to show up, exercise and make some progress, The risks of injury are too high for the amount of reward you achieve with this method of training. Regardless, I still see these mistakes being made in the gym. Below are a list of the top 10 common mistakes made in the weight room provided by the American College of Sports Medicine.
The solution to preventing mistakes in the gym? An educated and experienced personal trainer will be able to help you stay focused on your goals while keeping you from injury. The role of a fitness trainer is to maximize your training program so you accomplish more during your workout and keep making forward progress. At Carolina Gold Fitness, we emphasize nutrition and exercise to help improve health, fitness and performance. We offer free fitness and wellness consultations to help you find the best fit for you individual needs. Contact us at 828.209.8776 and we can set you up for long term success.
1. BELIEVING THAT THERE IS ONLY ONE TYPE OF EQUIPMENT THAT WILL PROVIDE THE MAXIMUM RESULTS.
Nonsense. The best equipment to use is one that meets the perceived needs and interests of the exerciser. Free weights… machines… bodyweight. As such, the equipment that individuals choose to use when strength training should be based on several factors, including availability, safety, ease of use, and impact on the desire to continue training.
2. CONCLUDING THAT STRENGTH TRAINING WILL AUTOMATICALLY INCREASE MUSCLE MASS.
Nonsense. In reality, without help from their pharmacist, most people have little-to-no chance to increase the size of their musculature. There are five factors that affect how big a muscle gets, only one over which an individual has control. As a result, most women (less than 2%) and men (less than 20%) will never need to worry about pumping up too much.
3. ASSUMING THAT THE OPTIMUM MEASURE OF A PERSON'S LEVEL OF STRENGTH IS HOW MUCH THEY CAN LIFT.
Nonsense. A more appropriate assessment of strength is how well a person can safely handle their own bodyweight (e.g., push-ups, sit-ups, chin-ups, etc.). Lifting a given amount of weight on a particular exercise, for example, a biceps curl, is affected by a number of factors, including the length of the levers involved in the exercise.
4. DECIDING NOT TO PERFORM A PARTICULAR EXERCISE THROUGH A FULL RANGE OF MOTION (ROM).
Nonsense. Not doing every strength exercise through the complete ROM for the muscles involved eventually will diminish the ROM for those muscles. As a result, certain performance capabilities of the exerciser will be compromised, as well as the fact that the exerciser will have an enhanced exposure to being injured.
5. THINKING THAT THEY ARE TOO OLD TO GAIN THE ADVANTAGES OF STRENGTH TRAINING.
Nonsense. Individuals of all ages will benefit from strength training, including older adults. Not only will proper resistance exercise training help them maintain their level of flexibility, but it also will boost their ability to perform the activities of daily living in which they engage.
6. SUPPOSING THAT WITH REGARD TO STRENGTH TRAINING, DOING MORE IS BETTER.
Nonsense. Sooner or later, all forms of exercising, including strength training, reach a point of diminishing returns. When that stage occurs, further gains in fitness generally are no longer physiologically possible. In addition, the risk of being injured when exercising is elevated.
7. FEELING THAT IT IS NECESSARY TO COMPARE HOW MUCH THEY CAN LIFT TO THE PERFORMANCE OF OTHERS.
Nonsense. As an extension of the ignorance-has-no-bounds syndrome, a condition that affects far too many people, many men believe that they should lift more than women; young people feel that they should lift more than older people; etc. All factors considered, the only consideration with regard to how much a person lifts should be how that effort impacts the individual exerciser.
8. SURMISING THAT MAKING EXCESSIVE NOISE WHILE THEY ARE LIFTING IS PERTINENT EVIDENCE THAT THEY ARE EXERTING THE NECESSARY EFFORT.
Nonsense. Although grunting, groaning, and making a racket may be an integral part of a person's strength training technique, no evidence exists that it has any impact, whatsoever, on how much an individual actually can lift. Helpful to the exerciser, no. Annoying to others, yes.
9. PRESUMING THAT CONSUMING ONE OR MORE OF THE VARIETY OF DIETARY SUPPLEMENTS THAT ARE PROMOTED AS STRENGTH AND MUSCLE-SIZE ENHANCERS WILL WORK.
Nonsense. Unless the basic goals of the exercisers are to improve the general composition of their urine and to waste their money, strength exercisers who take dietary supplements are chasing an illusory pipedream.
10. ACCEPTING THE MANTRA OF "NO PAIN, NO GAIN."
Nonsense. A more appropriate premise would be "no pain, no gain, no sense." In fact, exercise, including strength training, should not be painful. Uncomfortable, perhaps; painful, never. Pain is the body's signal to exercisers that they are doing too much.