Bethany Hamilton, Getting Back In The Water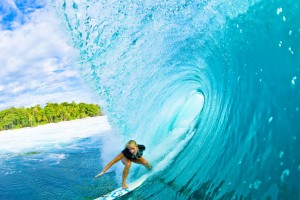 At the age of thirteen, on October 31, 2003, Bethany was attacked by a 14-foot tiger shark while surfing off Kauai's North Shore. The attack left Bethany with a severed left arm. After losing over 60% of her blood, and making it through several surgeries without infection, Bethany was on her way to recovery with an unbelievably positive attitude. Lifeguards and doctors believe her strong water sense and faith in God helped get her through the traumatic ordeal.
Miraculously, just one month after the attack, Bethany returned to the water to continue pursuing her goal to become a professional surfer. In January of 2004, Bethany made her return to surf competition; placing 5th in the Open Women's division of that contest. With no intention of stopping, Bethany continued to enter and excel in competition. Just over a year after the attack she took 1st place in the Explorer Women's division of the 2005 NSSA National Championships – winning her first National Title.
From Bethany's Bio