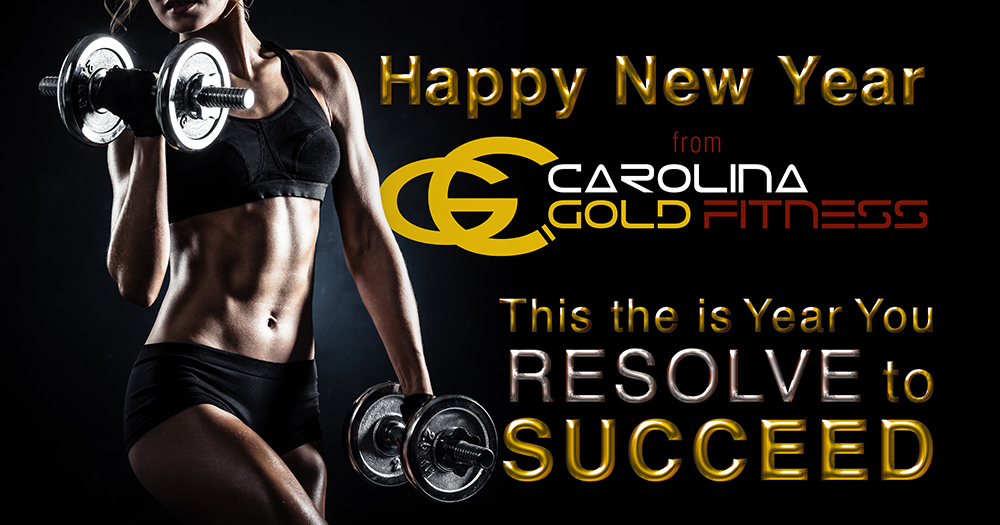 Happy New Year! 2015 was an incredible year for Carolina Gold Fitness. We were proud to be able to service our clients with so many different needs and goals! Looking back on this year, we were faced with goals such as personal training and group training, weight loss and nutritional coaching, rehabilitation and functional fitness, performance training for endurance athletes and more. We really enjoyed helping with events like the Apple festival 8K race, Glam Lab, Beauty From the Inside Out, and several health and wellness seminars.
Looking forward to 2016, we are expanding our services and programs this year. One of our weight loss programs, The 21 Day Challenge, was a huge success with every participant showing a change in body composition. Some Challengers even had to overcome surgeries and disabilities which made the program even more challenging without the fitness aspect. This program is great for athletes, bridal parties, and anyone else who needs to lose weight fast. This program is also a great way to get a running start to long term weight loss/management no matter where you are. We are excited to start 2016 with a 21 Day Challenge Kickoff on January 9th.
The 21 day challenge is an abbreviated version of our full nutrition education program. Written by a Registered Dietitian and based on low glycemic impact eating. TLS Weight Loss is designed to lead you through 13 weeks of nutrition coaching to achieve your weight management goals. You can take the FREE dieter profile and find out more about the TLS Weight Loss programs at tlsslim.com/CarolinaGold.
Our outfit class lead by ACSM Certified Exercise Physiologist, Timothy Thew, has become one of our favorite programs. Tim uses his 20 years of experience in fitness to create a challenging class built on an ever changing list of exercises. The goal of the class is to hit the total body and expand the energy systems, increase muscle and functionality and boost the metabolism. Utilizing indoor and outdoor venues, the Out-Fit class boasts the most exercise opportunities available in a fitness class. This is the most well rounded program we have ever offered! Out-Fit is available in partnership with Henderson County Parks and Rec. Athletics And Activity Center on South Grove Street in Hendersonville, Monday, Wednesday & Fridays at 5:30 pm. Membership for this class is $60/month.
Personal Training and Small group training is always a staple of Carolina Gold Fitness. Regardless of what your goal is, an educated and nationally certified personal trainer is your best chance for reaching your goals. Need even more accountability or camaraderie? Small group training boasts the benefits of a personal trainer while working out with friends. Maximize your potential for progress while minimizing the risk for injury under the guidance of an experienced professional. Call for pricing and availability.
Our clients all have the benefit of training with a personal trainer, they also enjoy the benefits of saving money on their everyday purchases through our shop: http://shop.carolinagoldfitness.com. One of our favorite perks has been showing our clients how to subsidize their training through shopping online. We have partnered with over 4000 stores to offer additional savings on purchases such as toilet paper, paper towels, toys, beauty care, health care, clothing, electronics, groceries, vitamins & supplements etc… Registration at http://shop.carolinagoldfitness.com is FREE to anyone, however, contact us to find out how to use the shop to its maximal benefit of savings.
We have many more programs coming soon including running camps, bike tours, boot camps, corporate fitness classes and more! Please contact us if you would like more information on these or any other program. We look forward to helping you keep your New Years Resolution in 2016!
Happy New Year!
Timothy Thew, ACSM-CEP